Though beacons are largely gone, citizens say VIPs using other ways of marking their importance on road
---
• 42% citizens say motorcades are in, 31% say sirens are the new VIP indicator
• 15% say they are seeing VIP vehicles still having beacons
• Only 12% say, VIPs now moving as ordinary citizens
11 August, 2017, New Delhi: After the move by the Chief Ministers of Uttar Pradesh and Punjab, the Government decision of banning the red beacons across India has been a good move toward reducing the VIP culture in the country and has been appreciated by citizens. Some strong steps were required to control this menace and this move was certainly one of them. But it seems like a lot more needs to be done to completely eradicate VIP culture from the country.
Many citizens in different discussions on LocalCircles mentioned that since that banning of red beacons, people have been using other means to show their 'VIP' importance. In a poll conducted by LocalCircles to do a ground reality check on VIP culture which received 9021 responses, people were asked how VIPs were traveling on roads in their city. Surprisingly, 15% said that VIP cars were still using red beacons. 31% said that VIP cars don't have beacons but are instead using loud sirens. 42% said VIPs are using motorcades instead of sirens and only 12% said that VIPs were moving like ordinary people without using any beacons, sirens or motorcades.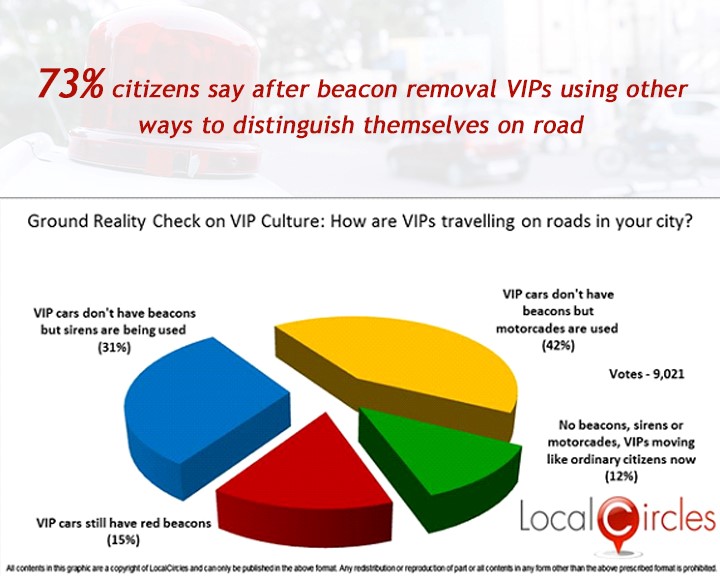 Although the use of red beacons has been completely banned by the government, sirens are widely being used by VIP cars. Also, things like VIP passes, VIP quotas, VIP entrances etc. does not let the culture move out of our system.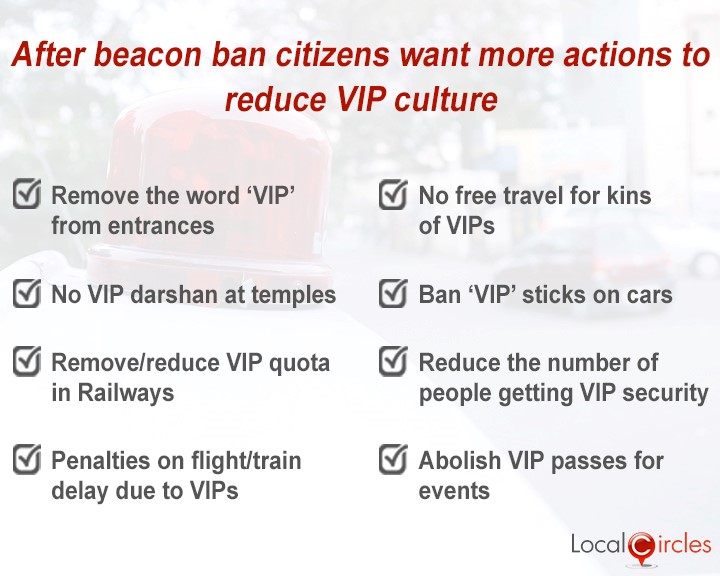 Citizens also suggested other measures which could lead to a major reduction in VIP culture. These include removal of the word VIP from entrances, no VIP darshan at temples, reduction of VIP quota in railways, penalties on flight/train delays due to VIPs, no free travel for the kins of VIPs, banning VIP stickers on cars, reduction in the number of people getting VIP security and abolishing VIP passes for events.
About LocalCircles
LocalCircles takes Social Media to the next level and makes it about Communities, Governance and Utility. It enables citizens to connect with communities for most aspects of urban daily life like Neighborhood, Constituency, City, Government, Causes, Interests and Needs, seek information/assistance when needed, come together for various initiatives and improve their urban daily life. LocalCircles is free for citizens and always will be!
All content in this report is a copyright of LocalCircles. Any reproduction or redistribution of the graphics or the data therein requires the LocalCircles logo to be carried along with it. In case any violation is observed LocalCircles reserves the right to take legal action.