89% small businesses want Government to allow GST payments for March - May without late fee and interest till June 30th, 2021
---
● MSMEs, startups and traders in most parts of the country have been facing difficulties to meet the deadline due to curfew and lockdown restrictions
May 24, 2021, New Delhi: The deadline for GST payment for small businesses falls on the 24th every month. However, small businesses from across the country have been raising the issue of their inability to meet this date as business for most has been shut due to lockdown and curfew restrictions in their state. Most micro entrepreneurs and traders still are on a paper based system where manual interfacing between them and their accountant takes places to finalise GST details and thereafter an electronic payment is made between the business owner and the accountant and the accountant pays the final GST to the Government. A visit by the accountant or a visit to them is not an option for most businesses as many states have been in lockdown since early April and hence the majority are unable to make their GST payment. Similarly most have been unable to file the return for quarter ending March 31st, 2021.
LocalCircles had escalated the need for relaxation for March 21 GST payment and return to the Finance Minister and senior finance ministry officials on April 23rd, 2021 and on May 1st, 2021 the Finance Ministry provided certain relaxations. However instead of extending the no penalty and interest filing date for small businesses to June 30th, 2021 they were only given an extension to file March and April without late fee for a 30-day period. An interest waiver was given if filing was done within 15 days from the due date, a 9% interest rate for period of 15-30 days and an 18% interest rate to be levied if filing was done post 30 days.
To understand if the relaxations were helping and to gauge the magnitude of the issue, LocalCircles conducted a follow on survey in which over 2400 small businesses located in 122 districts participated. The participants included MSMEs, startups, micro entrepreneurs and service providers.
89% small businesses demand that penalty on GST late payment and return filing be waived till June 30th, 2021
When the survey asked small businesses about relaxations needed in regards to the GST payments and return filing, 11% said the extension of no penalty on March GST payment, and return till June 30th. Another 16% voted for an extension of no penalty on April and May GST payment till June 30th. The majority of 62% voted for both "1 & 2" relaxations from the aforementioned options. There were also 8% who believed that such relaxation on GST payments and return filings should not be given. Overall, 73% small businesses want no penalty and interest on March GST payment and return filing till June 30th, 2021 while 78% small businesses want no penalty and interest on April and May GST payment till June 30th. Overall, 89% small businesses want no penalty and interest relaxations on GST late payment and return filing till June 30th, 2021. This survey received 2,456 responses.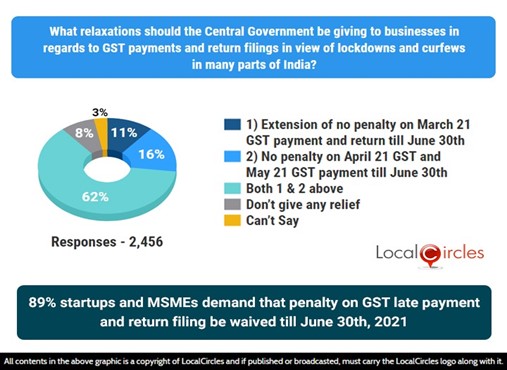 LocalCircles will once again escalate the findings of this latest survey to the Ministry of Finance so that the feedback of small businesses can be considered and the dates for GST payment and return filing without penalty and interest for March – May 21 can be extended till June 30th, 2021.
Survey Demographics
Over 2400 businesses located in 122 districts of India participated in this survey. 44% businesses were located in Metros or Tier 1 locations, 31% in Tier 2 locations and 28% in Tier 3, 4 and rural locations. The survey was conducted via LocalCircles platform and all participants had to be registered with LocalCircles to participate in this survey.
About LocalCircles
LocalCircles, India's leading Community Social Media platform enables citizens and small businesses to escalate issues for policy and enforcement interventions and enables Government to make policies that are citizen and small business centric. LocalCircles is also India's # 1 pollster on issues of governance, public and consumer interest. More about LocalCircles can be found on https://www.localcircles.com
All content in this report is a copyright of LocalCircles. Any reproduction or redistribution of the graphics or the data therein requires the LocalCircles logo to be carried along with it. In case any violation is observed LocalCircles reserves the right to take legal action.