89% citizens surveyed want DOT to create a simpler mechanism for users to report SPAM or unsolicited messages
---
● Many say recently proposed model of consumers finding company name of sender & sending complaints using predefined format is impractical
● 73% citizens get 4 or more unwanted SMS daily; 74% get such SMS despite registering on TRAI's DND
July 12, 2021, New Delhi: Amidst rising consumer complaints, from unsolicited text messages to pesky calls, the Government of India has acted against unsolicited SMS sent to mobile subscribers. The Department of Telecommunication has decided to levy fines against registered telemarketers with fines from INR 1,000 per violation for 0-10 breaches, INR 5,000 each for 10-50 violations, and INR 10,000 each for more than 50 violations―aimed to minimize unsolicited commercial communication.
Spam messages from banks, insurance brokers, car dealers, spa services, property agents and lately income opportunities have continued to annoy citizens. Not to be confused with any transactional message or messages communicated per the direction of the Central or State Government or authorized agencies, such unsolicited SMS is a misuse of citizens' personal data. Many people face issues of unwanted messages and calls made to them by fraudsters, spammers, telemarketers, despite registering on TRAI's Do Not Call Registry (NDNS). In February 2020, around 93 million phone numbers registered with the TRAI's "Do Not Call Registry (NDNS)" were kept on sale on the Darknet.
DND not working - 73% Indians get 4 or more spam SMS' each day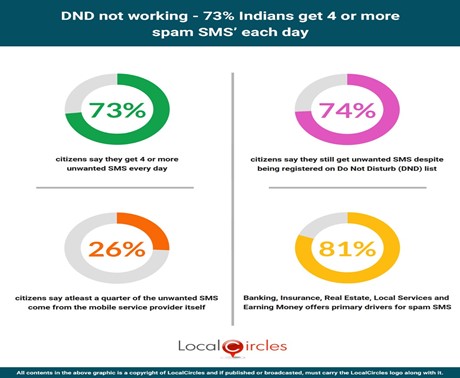 According to LocalCircles' survey released on March 10th, 2021, which collected over 35,000 responses from citizens located in 324 districts of India, had found out that 73% of citizens were getting 4 or more unwanted SMS on a daily basis. Despite being registered on the Telecom Regulatory Authority of India (TRAI) "Do Not Disturb (DND)" list, 74% of citizens at the time said they still get unwanted SMS. In the same survey, 26% of citizens said that at least a quarter of the unwanted SMS comes from mobile service providers, such as Vodafone, Jio, Reliance, Airtel. Banking, Insurance, Real Estate, Local Services and Earning Money offers were the primary drivers for spam SMS.
The recent move to curb unsolicited commercial communication, the Telecom Department has created two special wings―Digital Intelligence Unit (DIU) and Telecom Analytics for Fraud Management and Consumer Protection (TAFCOP)―to co-ordinate with law enforcement agencies, financial institutions and other Government agencies in cases involving frauds, using telecom resources or services. DIU and TAFCOP would take cognizance of consumers' reports about the connections not taken by them. It will act as a grievance redressal system, which will provide a platform for the public to register their complaints and monitor its resolution concerning any unsolicited commercial communication (UCC).
The decision to levy fines may discourage spammers to send unsolicited SMS to consumers, but its success will depend upon the implementation mechanism, and ease for consumers to report such unwanted SMS and pesky calls. Per media reports, citing Telecom Department, a mobile phone subscriber will need to send an SMS to 1909 with the message 'STOP' followed by the name of the company, which has been sending unwanted communication, to block their promotional communications, except transactional messages. LocalCircles has conducted a survey to understand from citizens the preferred way for them to report a spam SMS. This allows both the broader citizenry and the Government to understand what needs to be worked upon. The survey received more than 9,245 responses from citizens residing across 289 districts of India. 69% respondents were men while 31% respondents were women. 49% respondents were from tier 1, 28% from tier 2 and 23% respondents were from tier 3, 4 and rural districts.
89% citizens want DOT to create a very simple mechanism for users to forward SPAM messages to a centralised number; finding company name of sender and sending complaints using set formats is impractical
The question asked citizens to gather their pulse about they think is the preferred way for them to report a spam SMS. In response, the majority of 89% of citizens said the preferred way would be to "forward the message to a centralised number" to report a spam SMS. Breaking down the poll, 7% of citizens voted for "finding the name of the company somehow and send a message to centralised number to STOP SMS from that company". There were also 3% of citizens who said that they "just won't be able to report", and 1% did not have an opinion. This question in the survey received 9,245 responses.
What the survey suggests is that users want a very simple mechanism to be able to forward spam text messages to a centralized number. The telecom service provider set up and the DOT system should be smarter and instead figure out the details of the sender based on the text message. The DOT should request details of all such senders from the telecom service provider and basis that issue penalty notices. Expecting that a user will take the time to find the name of the senders company and then send a complaint in a prescribed format will just not work and have very limited impact.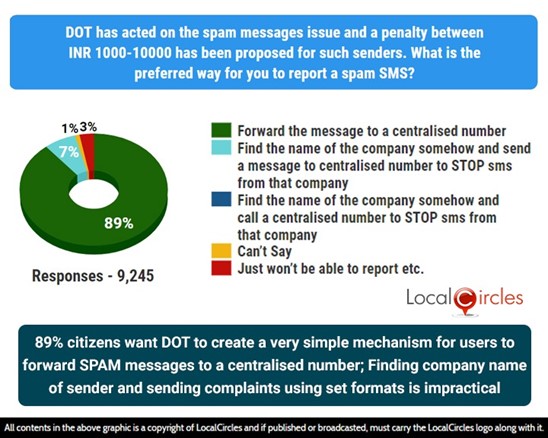 LocalCircles will be sharing the findings of this pan India survey with TRAI and the Department of Telecommunications (DOT) so that necessary actions can be taken and a smarter citizen centric system be set up to it becomes easy for citizens to submit complaints.
Survey Demographics
The survey received more than 9,245 responses from citizens residing across 289 districts of India. 69% respondents were men while 31% respondents were women. 49% respondents were from tier 1, 28% from tier 2 and 23% respondents were from tier 3, 4 and rural districts. The survey was conducted via LocalCircles platform and all participants were validated citizens who had to be registered with LocalCircles to participate in this survey.
About LocalCircles
LocalCircles, India's leading Community Social Media platform enables citizens and small businesses to escalate issues for policy and enforcement interventions and enables Government to make policies that are citizen and small business centric. LocalCircles is also India's # 1 pollster on issues of governance, public and consumer interest. More about LocalCircles can be found on https://www.localcircles.com
All content in this report is a copyright of LocalCircles. Any reproduction or redistribution of the graphics or the data therein requires the LocalCircles logo to be carried along with it. In case any violation is observed LocalCircles reserves the right to take legal action.