Citizens fed up of unwanted SMS messages and the menace will only increase as we go into elections
---
• 70% citizens still get spam SMS despite registering for DND
• 78% citizens say they get 4 or more unwanted SMS every day
• 34% citizens say at least a quarter of the unwanted SMS come from their service provider itself
• Real estate, insurance and banking services leading offenders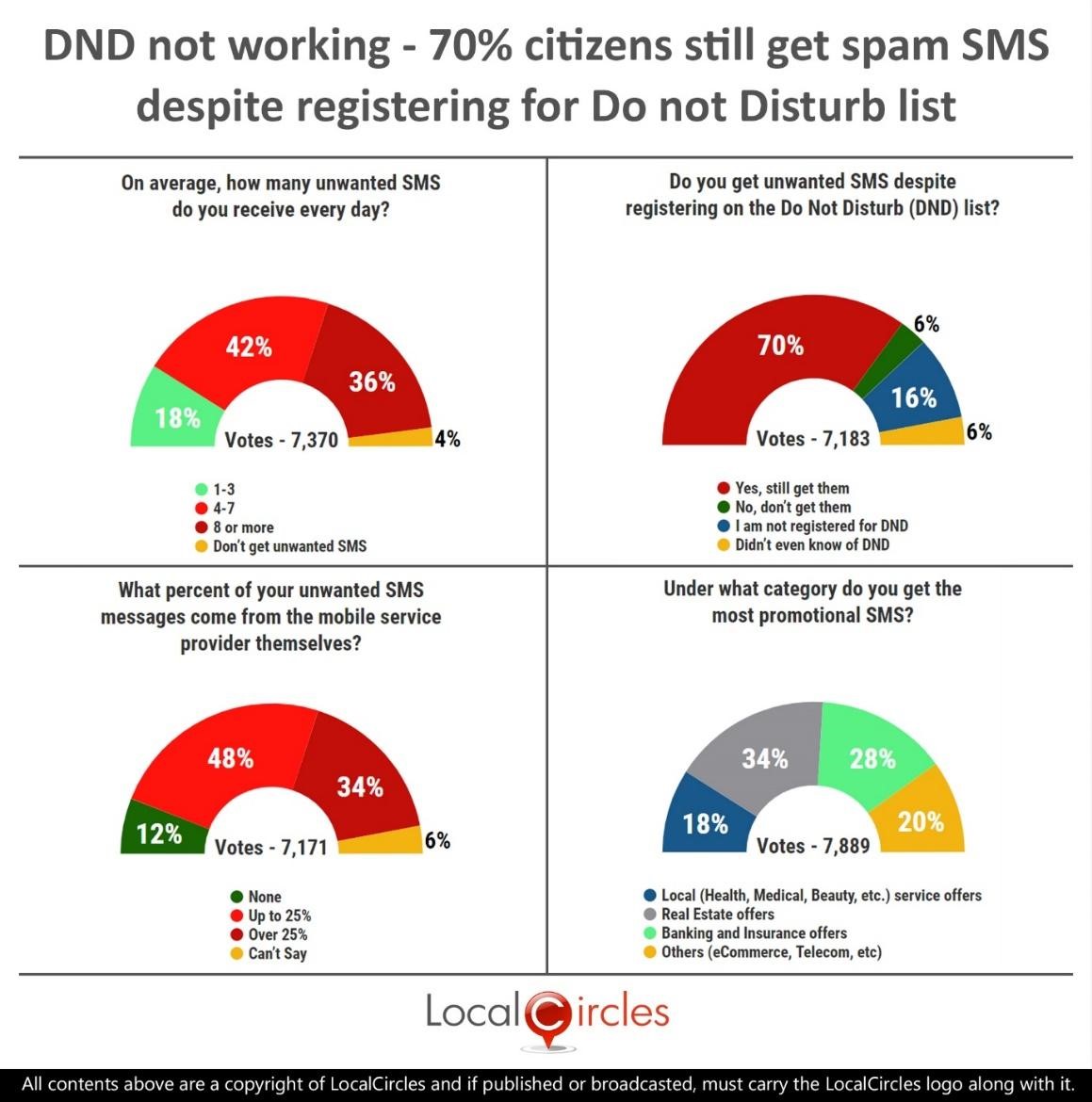 14th March 2019, New Delhi: According to industry estimates, tens of billions of unsolicited or spam SMSs are sent every month across telecom networks, making India the second most spam riddled country in the world. So much so, that some people report receiving almost 10-15 spam and unwanted SMSs every day. And with the Lok Sabha elections approaching fast, these numbers are set to increase many folds. For many years now, political parties and their candidates have used mobile SMSs as a cheap form of marketing. This very cost-effective exercise allows them to send vote-seeking messages to lakhs of citizens who may or may not be the intended recipients. These unwanted SMSs land in the inboxes of citizens, who then feel spammed.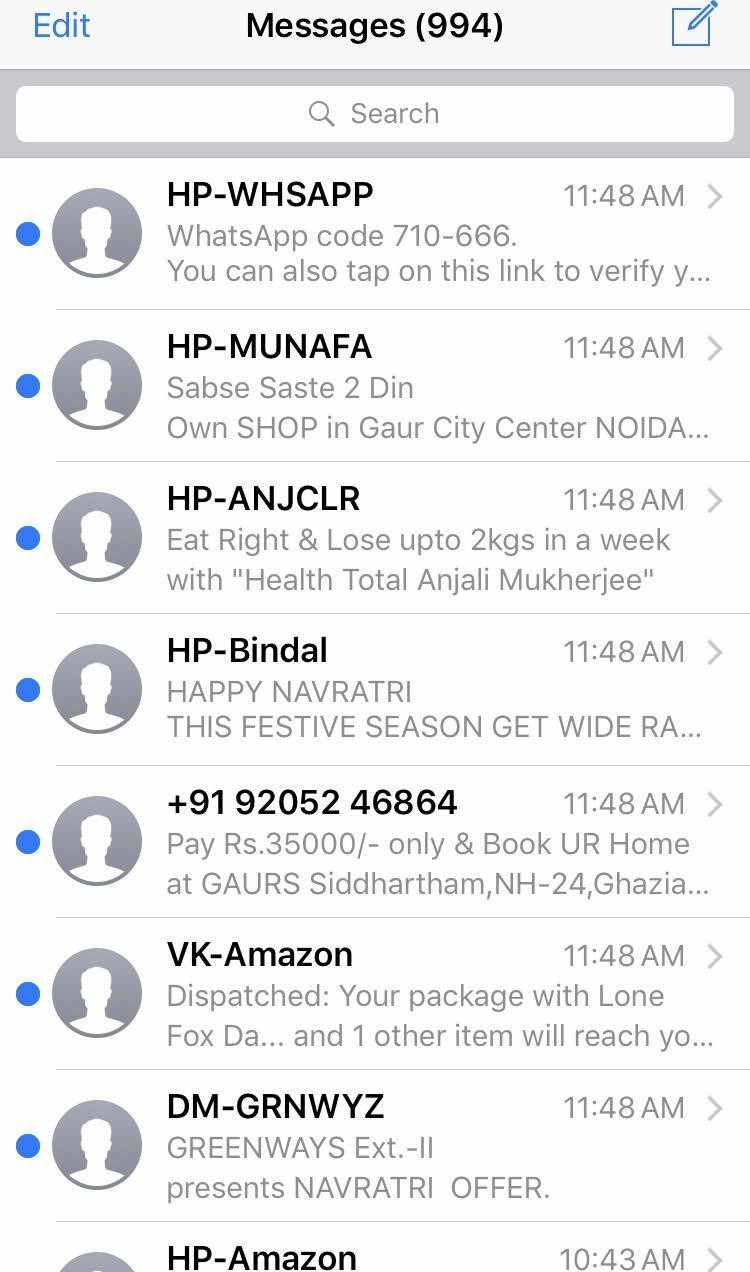 A screenshot of what a typical Indian mobile subscriber finds in their SMS box these days
LocalCircles conducted a large survey to check the citizen pulse on unwanted & spam SMS, and how big an issue it is. The 4-poll survey received more than 29,000 votes from 12,000+ unique participants. In the first question, citizens were asked how many unwanted SMS they receive every day. 42% said they receive 4-7 SMS and 36% said they receive 8 or more unwanted SMS every day. 18% said they receive 1-3 SMS while only 4% said they don't get unwanted SMS at all.
78% citizens say they get 4 or more unwanted SMS every day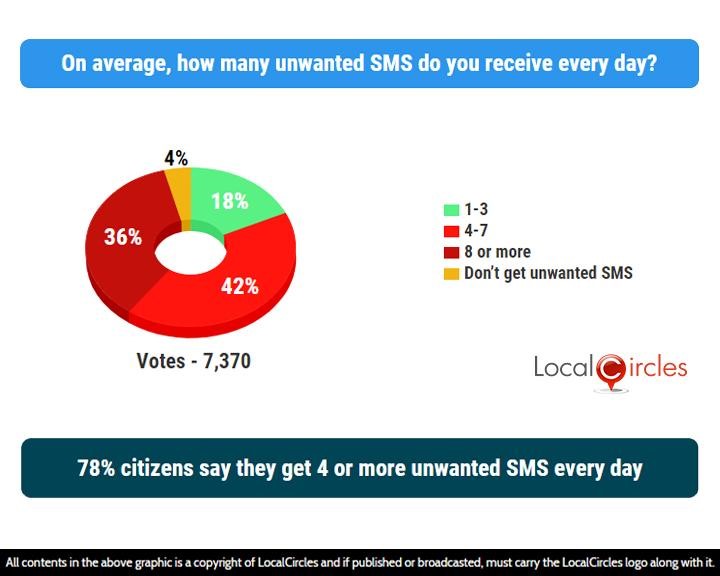 Many people face issues of unwanted telemarketing messages and calls made to them by various companies. These messages and calls are extremely annoying and the National Do Not Disturb Registry was thought to be one way to control this. According to the telecom regulator, as on May 2018, there were 23 crore mobile subscribers registered with the Do Not Disturb registry.
70% respondents in the next question said that they still receive unwanted SMS despite registering for the Do Not Disturb (DND) list. Only 6% said they do not get them. 18% said they're not registered on the DND list and 6% said they don't even know that a DND list exists.
70% citizens say they still get unwanted SMS despite being registered on Do Not Disturb (DND) list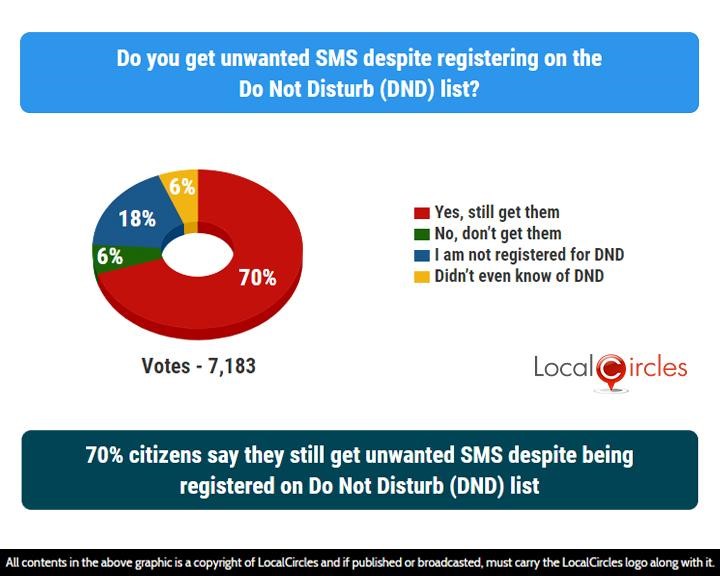 Telecom service providers like Vodafone, Airtel, Jio and Idea have also been in the news for spamming their own users. 34% citizens said that over a quarter of the unwanted SMS messages that they receive, come from their mobile service providers themselves. 48% said this number was between 0 to 25%. 12% said none of these are from the service providers while 6% were unsure about it.
34% citizens say atleast a quarter of the unwanted SMS come from the mobile service provider itself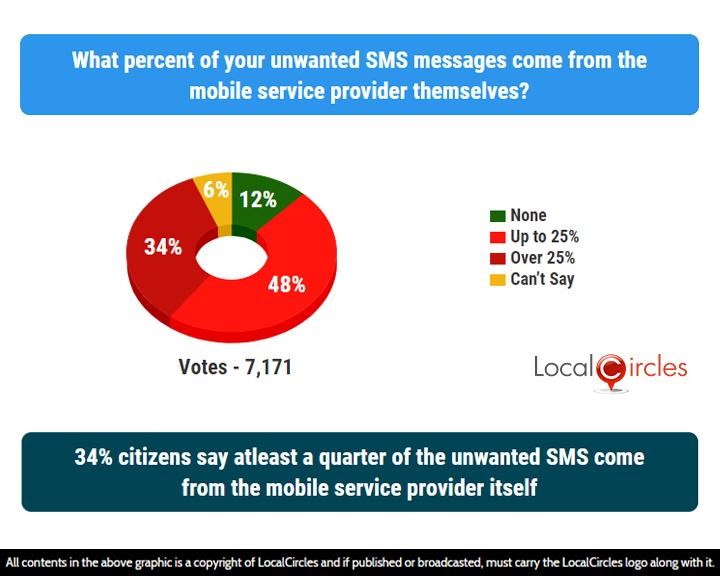 SMS is a low-cost way of sending across information and is hence very popular amongst variety of businesses. Right from a multi-million-dollar insurance company to a newly opened food stall across the road, many businesses use SMSs to reach out to the customer in search of getting more business.
In the final question, citizens were asked the category under which they receive the most promotional SMS. 34% said real estate offers, 28% said banking and insurance offers, 18% said local (health, medical, beauty etc.) offers, while 20% said others (ecommerce, telecom etc.).
Banking, Insurance & Real Estate industry the top senders of unwanted SMS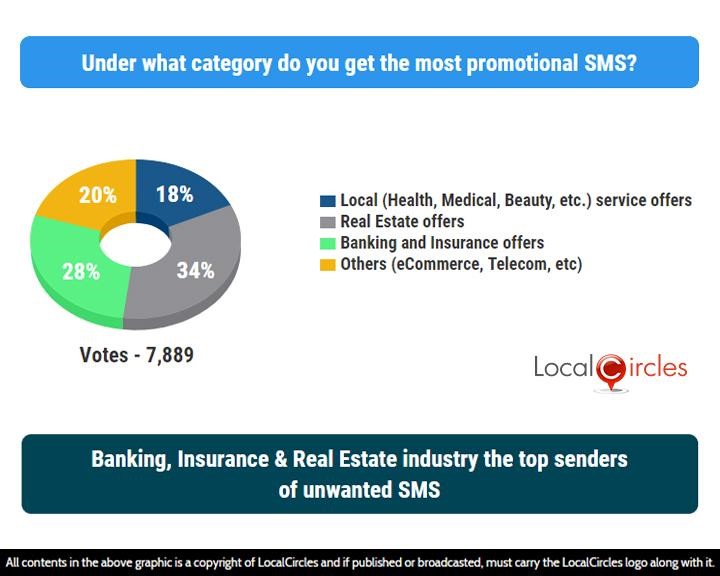 Indian regulatory authority TRAI (Telecom Regulatory Authority of India) in May last year, had released its draft Telecom Commercial Communication Customer Preference Regulation 2018, which is specifically designed to counter the menace of unwanted SMSs. This regulation requires that customer consent be explicitly recorded by a third party and be activated only after subscribers' confirmation. But apparently, spammers have happily been flouting rules.
The government needs to promote service like NCCP registry that make it easy for the consumer to know whether they are registered with Do Not Disturb India Registration. The government has clearly defined guidelines on the invasion of privacy and the consumer should be made aware of this.
TRAI has also published an App called as 'Do Not Disturb (DND 2.0)' on Google Play Store that enables smartphone users to register their mobile number under DND to avoid Unsolicited Commercial Communication (UCC)/ Telemarketing Calls / SMS. This is based on TRAI's "Telecom Commercial Communication Customer Preference Regulations, 2010".
Unwanted SMS continues to be a pressing issue with consumers since similar findings were reported from an earlier survey that LocalCircles had conducted in 2018. With election around the corner and political parties planning their campaigns with full steam, it is clear that regulator will have to take some tough steps to make sure that citizens get some respite from spam and unwanted SMSs in India. The big question is, will it or this menace will continue to persist and only increase in the coming months.
You may also like:
About LocalCircles
LocalCircles takes Social Media to the next level and makes it about Communities, Governance and Utility. It enables citizens to connect with communities for most aspects of urban daily life like Neighborhood, Constituency, City, Government, Causes, Interests and Needs, seek information/assistance when needed, come together for various initiatives and improve their urban daily life. LocalCircles is free for citizens and always will be!
All content in this report is a copyright of LocalCircles. Any reproduction or redistribution of the graphics or the data therein requires the LocalCircles logo to be carried along with it. In case any violation is observed LocalCircles reserves the right to take legal action.